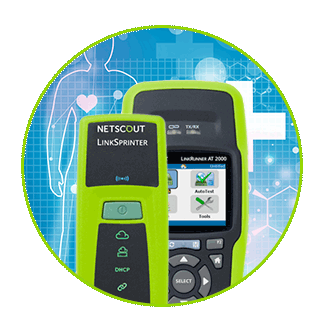 NETSCOUT delivers the most accurate wireless network tools for designing, deploying and optimising performance.
From mobile phones to ecommerce websites, users demand a fast, seamless and secure digital experience across their connected world. It's your job to deliver those digital services flawlessly.
And it's 4Cabling's job to provide you with the solution: Netscout.
NETSCOUT is a leading provider of business assurance - a powerful combination of service assurance, cybersecurity and business intelligence solutions.
Netscout offers handheld network test solutions to help frontline technicians validate network connectivity in less than 10 seconds. Their solutions streamline productivity with simple interfaces for technicians of varying skill level.

Netscout AirCheck G2
Netscout's AirCheck G2 provides fast, simple, and accurate Wi-Fi validation and troubleshooting, reducing the time to resolve wireless issues. AirCheck G2 simplifies wireless testing, enabling even less experienced technicians to solve more problems in less time with greater efficiency.
Find our more about the AirChecker G2