New Fibre Termination Facility
4Cabling is excited to announce the opening of our local Fibre Manufacturing Facility right here in Alexandria, NSW. We have a premium-class cleanroom, fitted with state of the art termination and testing capabilities.

When you are building a custom fibre network it is essential to purchase quality cable assemblies. At 4Cabling we offer you a complete one-stop shopping experience for all of your pre-terminated fibre (pre-term) optic cable assemblies, fibre patch panels (fobots), through coupler's, leads and accessories.

Our fibre pre-terms are designed to meet your requirements. You choose the type of fibre, connectors, core count and overall length. We manufacture and deliver to you. Our fibre pre-terms come installed with protective pulling socks to allow ease of handling and quick deployment.
Please complete our Pre-Terminated Fibre Checklist and one of our knowledgeable team members will get in touch with you shortly.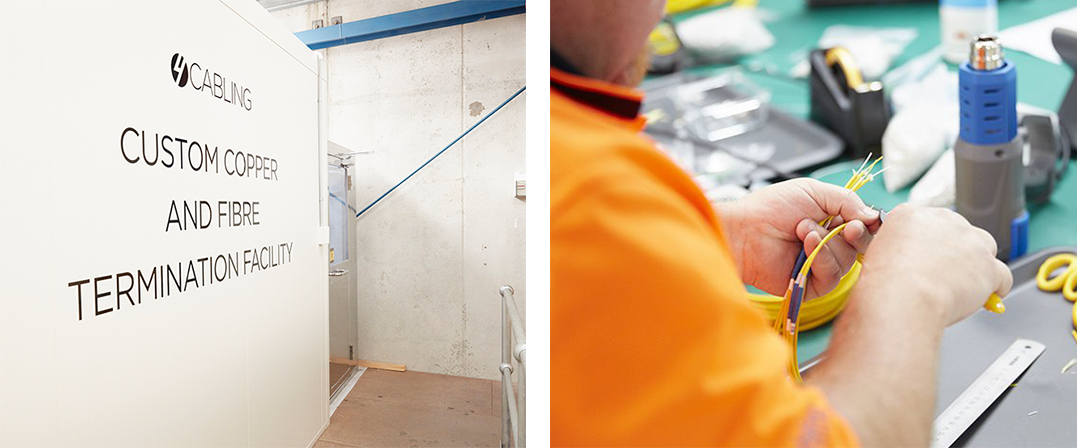 What is the best fibre for your install?
Our fibre cables can be ordered as Single Mode OS2 9/125, Multimode10 Gig 50/125 OM3 & OM4 fibre.
Choose the length
Custom Fibre cable is available in any lengths and up to 24 Strand count (or more using multiple, fibres).

Our fibre cable assemblies can be ordered and cut to any length required and come in 2 Core (duplex), 4, 6, 8, 12, and 24 core counts, allowing for true versatility in custom applications. If higher core counts are required we recommend running 2 or more fibres concurrently.
What Type Of Fibre Cable Outer Jacket Do You Need?
4Cabling can supply indoor/outdoor and Loose Tube, as well as Duplex fibre patch, leads, all UL approved and conforming to ITU-651, TIA/EIA492AAAD compliances.


Using a ruggedised external sheath, Indoor / Outdoor Riser style fibre is ideal for both internal or external applications. Designed to safely run inside conduit directly into a building with protection from water damage, UV or other elements they it be exposed to. This helps reduce the need for multiple fibre transitions. For purely indoor applications this fibre features improved durability which helps reduce installation time as well as providing enhanced protection against damage.
Loose Tube fibre should be used when the cable is either direct buried or installed within the underground conduit. This type of fibre is designed to withstand most outdoor conditions including moisture ingress, thermal shock, lightning, wind abrasion, and ice loading. Loose Tube fibre has a ruggedised external PE jacket coupled with a dry powder filled interior. In the event, the exterior sheath is compromised the dry powder reacts to water ingression to solidify and provide a waterproof barrier.
Custom Duplex Fibre Patch Leads
Fibre optic patch leads are fibre optic cable terminated at either end with connectors to allow the lead to be rapidly connected to telecommunication equipment, such as switches, routers or SFPs.

Our patch cords are constructed from a core with a high refractive index, surrounded by a coating with a low refractive index that is strengthened by aramid yarn and surrounded by a protective jacket. Transparency of the core permits transmission of optic signals with little loss over great distances. The coating's low refractive index reflects light back into the core, minimizing signal loss. The protective aramid yarns and outer jacket minimizes physical damage to the core and coating.
Custom Cables Connector Types: LC, ST or SC?
We can pre-terminate your fibre cables for your particular application in your choice of connector types of LC, ST or SC if required.
Pulling Socks
Pulling Socks are used to help make the moving of the fibre cables easier and safer when they are required to be run through walls or ceilings. 4Cabling's pulling sock consists of an extra piece of mesh netting added to the end of the cable designed to protect the connectors from damage.

When installing the fibre optic cables from a central point, it is worthwhile having pulling socks added to each end the cable so the cable can be pulled from both sides toward the termination points.
Breakouts and Staggered Terminations
Breakout or fan-out cables are used when terminating large strand count fibre optic cables that use 250um bare fibres, which can be broken or damaged easily when terminating. These kits are designed to add strength for ruggedized drops by adding a tight buffer to each individual fibre or fibre group, bringing the thickness to 900um. Breakout cable is suitable for short riser applications and also for use in conduits, where a simple cable run is planned to avoid the use of spliced fibre pigtails.