Premium Locally Manufactured Custom Fibre - Loose Tube
Loose Tube Optical Cable at 4Cabling
Loose Tube fibre should be used when the required cable is either direct buried or installed within underground conduit.

This type of fibre is designed to withstand most outdoor conditions including moisture ingress, thermal shock, lightning, wind abrasion, and ice loading. Loose Tube fibre has a ruggedised external PE jacket.
Available as Terminated or Unterminated
Custom configured, terminated and fully tested in our own cleanroom
Designed for external underground installations in ducts or direct burial in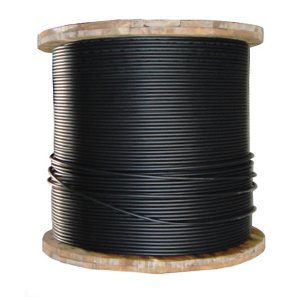 Technical Data
| | |
| --- | --- |
| Number of Fibres | 2 to 24 |
| Cladding Diameter | 125±1.0μm |
| Cladding Non-Circularity | ≤1.0% |
| Cable Nominal Diameter | 6.0±0.3mm |
| Cable Nominal Weight | 38kg/km |
| Max. Tension Short Term/Long Term | 1.0/0.4kN |
| Max. Installation Resistance (Short Term) | 1.0kN/100mm |
| Max. Installation Resistance (Long Term) | 0.3kN/100mm |
| Coating/Cladding Concentricity Error | ≤12.5μm |
| Coating Diameter | 245±1.0μm |
| Temperature Range | -40 to +70°C |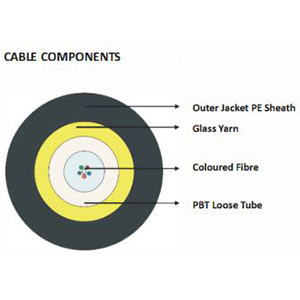 ---
Features
Conforms to ITU-651, TIA/EIA492AAAD
Manufactured with stringent quality control
Fully tested - all leads are supplied with a factory test report
Supports high speed multi-channel data, voice & video applications
Sheath printing includes length marking at one meter intervals
External PE jacket
Pulling systems available
Application
Fibre Optic Loose Tube Cables are designed to suit underground duct or conduit installations
Provides flexibility and versatility to your installation
Structured or premise wiring systems in backbones and/or inter-building
Perfect for the harsh Australian environment
Cable components
Outer jacket PE sheath
Glass yarn
Coloured fibre
PBT Loose tube
---
Raw Fibre - Available SKUs
SKU
DESCRIPTION
INDICATIVE PRICE
PER METRE ex GST
UT.I.6.OM3.LT.DC
6 Core OM3 Multimode Loose Tube Dry Core
$4.53
UT.I.6.OM4.LT.DC
6 Core OM4 Multimode Loose Tube Dry Core
$6.93
UT.I.6.OS2.LT.DC
6 Core OS2 Singlemode Loose Tube Dry Core
$1.81
UT.I.12.OM3.LT.DC
12 Core OM3 Multimode Loose Tube Dry Core
$7.10
UT.I.12.OM4.LT.DC
12 Core OM4 Multimode Loose Tube Dry Core
$11.81
UT.I.12.OS2.LT.DC
12 Core OS1/OS2 Singlemode Loose Tube Dry Core
$2.21
UT.I.24.OM3.LT.DC
24 Core OM3 multimode Loose Tube Dry Core
$13.75
UT.I.24.OM4.LT.DC
24 Core OM4 multimode Loose Tube Dry Core
$21.88
UT.I.24.OS2.LT.DC
24 Core OS1/OS2 Singlemode Loose Tube Dry Core
$3.95
ADDITIONAL FEES: Assembly fee of $30 applies to each drum / Drum fees will be included on quote based on cable length.
---
4Cabling provides world-class Fibre Optic products
4Cabling's Fibre Optic Cables are the installers' choice Australia wide. Our fibre is manufactured to the highest grade with stringent quality guidelines. Every Fibre optic patch lead is 100% tested and comes with a test report. Don't risk the performance of your network or installation by installing cheap grade fibre. If you are looking for high-grade telecom grade fibre products 4Cabling will be your number one choice for your cabling solution. We also offer an onsite fibre termination facility right here in Sydney.
To help us assess your pre-terminated fibre requirements please fill out this questionnaire.
---
Benefits of 4Cabling Fibre Optic Cable
Meet EC, EIA, TIA & Telcordia standards

World class manufacturing with stringent quality control

All leads are supplied with a factory test report

4C fibre leads are immune to electromagnetic noise

Simplex and Duplex configurable assemblies for LC SC ST and MTRJ patch leads
At 4Cabling we provide world-class quality fibre optic cables in OS1/2, OM1, OM3 & OM4 in many terminations and lengths and fibre couplers. No matter the size of the job, we can help with your install.
In today's global data communication evolution optical fibre plays a major role in connecting both ends. Fibre optics cable construction are smaller and more flexible against the conventional copper-based leads, fibre optics are made of a single strand of glass, but it is stronger than steel. All of our Fibre Optic Cables are manufactured with Corning Optical Fibre. Corning glass invented and manufactured the world first low-loss fibre optics which started the telecommunication/ data high-speed transfer revolution.
Browse our extensive products online and if you have any questions, please visit our contact us page, and one of our customer service team will be in touch with you shortly.